The solution
Modular structure, attachable accessories, and smart cloud services enable easy customization for multiple purposes. With Actioneco Platform, associates and 3rd parties can extend possibilities of Actioneco machines beyond the current core product line.
Actioneco scalable modules and components
Actioneco underbody platforms are all fully electric and electronic. They are based on scalable modules that enable customization for many different purposes. All underbodies are built 90% by shared unified modules and components.
Actioneco Machines, Smart Machines, Vehicles and Underbody Platforms built with:
Servo motors with amplifiers on all functions and needs, where amplifier is the precise continuous source of data on Actioneco Fleet Manager, IoT, Administration and ICT without sensors, which need continuous checking and service,
All Wheel Drive (AWD), All Wheel Steering (AWSt) and loads handling are built by "planetary gears with servo motors with amplifiers" system on all functions and needs,
Lithium-ion battery system and BMS.
Actioneco Power Drive Design above result to:
Battery-to-wheels 90 % efficiency rate, 92 % reduced sound pressure and 365/24/7 disturbance free work and travel, 90 % lower costs operations, life-time-services by wireless IoT service provider and administrative system, built-to-last multiple lifetime at nil services and 7 years li-ion battery warrantee with 2nd life at electric energy storage and 2nd and above leasing periods...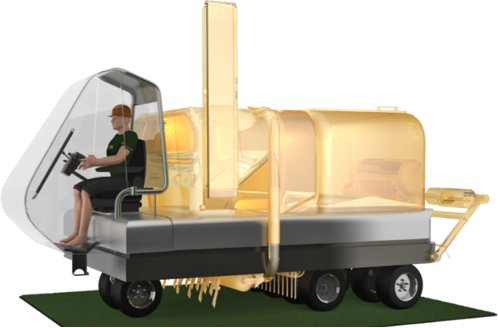 15 AWD & 15 AWS:
Actioneco Smart Machine built with 15 AWD & 15 AWSt on up-to 9 "jobs one pass operation", including i.e. mowing, verti-cutting, mechanical, air or fluid aeration, aeration stumps collection, move to crushing-shredding and seeding, fertilizing and pesticides… planting to aeration holes and spreading top-dressing with crush-shred mixture, brushing/harrowing to even surface and finished with rolling, all performed by one pass.
The multi-jobs by one pass work reduce operating costs and lower trampling of ground, which will radically reduce expensive and time-consuming aerations and costs.
It will radically increase the available time-on-game/use and earnings.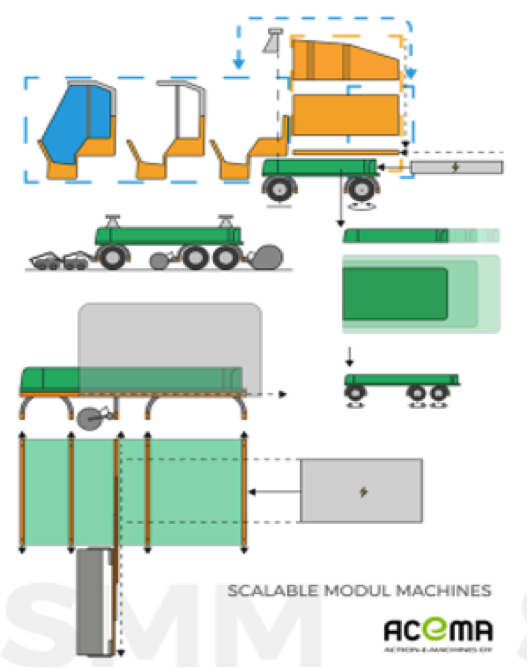 Actioneco Modular and Scalable Platforms:
Actioneco Modular and Scalable Platforms of 3 to 7 AWD Machines/Vehicles and Actioneco 9 to 11 to 15 above AWD and AWSt Machines/Vehicles digital designs with "Digital Twin AI"-development, description below, on expansion to new application, solutions and businesses.
Result to day- and year-round 365/24/7 operations to increase current 10 to 12 % utility rate of 8760 (+ every 4th year + 24 h) systems to over 50 % and close to 100 % rate on automatic operations.
Actionecos are built Scalable, Modular Machines /Vehicles and Actioneco Smart Machines / Vehicles and Underbody Platforms.
They are built and/or converted by reversed built vehicles with drive position/cabin at the other end and automatic ones built without.
Digital Twin AI
Digital Twin approach supports the whole product lifecycle from design to service. This is especially important when expanding to new applications and industries. Create the virtual model already at inception, utilize the same model in the sales and marketing of the product, start training earlier on, and eventually connect the real machine to the digital twin. Read more about Digital Twin from mevea.com.
Actioneco Modular and Scalable Platforms of 3 to 7 AWD Machines/Vehicles and Actioneco 9 to 11 to 15 above AWD and AWSt Machines/Vehicles digital designs with Digital Twin AI development on expansion to new application, solutions and businesses.

Actioneco cloud services and IoT
Actioneco cloud services and IoT provide digital management, billing, maintenance, analytics, and supervision features for managing both the Actioneco machines and the work on the field. The cloud services are also extendable and customizable by use case. You can find more information about the cloud services from the services page.
Applications and industries
Some of the possibilities are presented below.
Groundskeeping and landscaping
Groundskeeping for golf cources, parks, etc. See our current models on the products page.
Municipal work
Municipal technology include energy and waste management, parks, traffic routes, real estate, and water management. In the study of Taloustutkimus (Economic Research Inst.), the extent and efficiency of the industry were evaluated (Tekniikka&Talous, Technology and Economy, on 26th October 2016). Based on the evaluation, there is a lot of savings potential in municipal work. Ideally, machines run around the clock.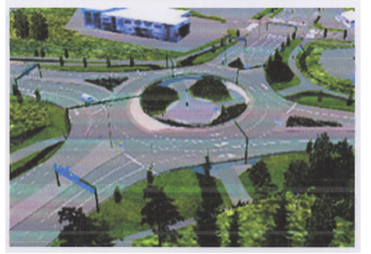 Samples taken by observations:
Calculated from technical magazines on used machines sales sections, it resulted to an average of 10 to 12 % utility rate of outdoor maintenance and upkeep machines calculated from the annual available 8760 (+24 hours every 2nd year) hours per annum.
Lahti City Centre / Market Place, where 10 diesel busses, seating i.e 70 passengers, have total of about 20 seats occupied during off-rush hours. Utility rate was nil and in addition they were 1/3 of the time daily at idle. They were polluting, motors running at idle on bus stops and noisy, specially during accelerations and travel.
Actioneco Circular Economy solutions below, will solve problems:
…4 and 8 and above minibus and transport vehicle…
…above curb level, can lower down on street, floor top at curb level…
allow easy accesses in and out by handy-capped, people with rollators, parents with children in baby buggies and through optional end door patients transported on hospital bed…
quick and easy convert to parcels, goods and long material transport etc.
the silent solutions on 365/24/7 year- and day-round operations to reach close to 100 % utility rate.
Public transportation
City minibuses as a feeder system for rail network and air traffic. For example a 4 wheel minibus with the following details:
All wheel drive.
+/- 360 omni-directional steering providing easy parking in tight places.
Electric-fluid-air suspension facilitating easy access for passengers. The floor top is about 20cm (8") above the curb level when stopped.